Name of Head of Department
Mr N Riseborough BSc (Hons), PGCE
Introduction to the department
It is our hope that mathematics at DHSG should first of all be fun. We wish to stimulate interest in, and enthusiasm for, the study of mathematics for its own sake so that girls discover for themselves the richness and variety of the subject and the unique insight it provides into the nature of the world around them. This is not to overlook the development of the skills required for adult life, other subjects, and the passing of examinations but is intended to demonstrate our commitment to the fostering of a positive attitude to the subject. We also aim to provide girls of varying abilities and interests, the opportunity to achieve their full potential in the subject at an appropriate level and rate of progress.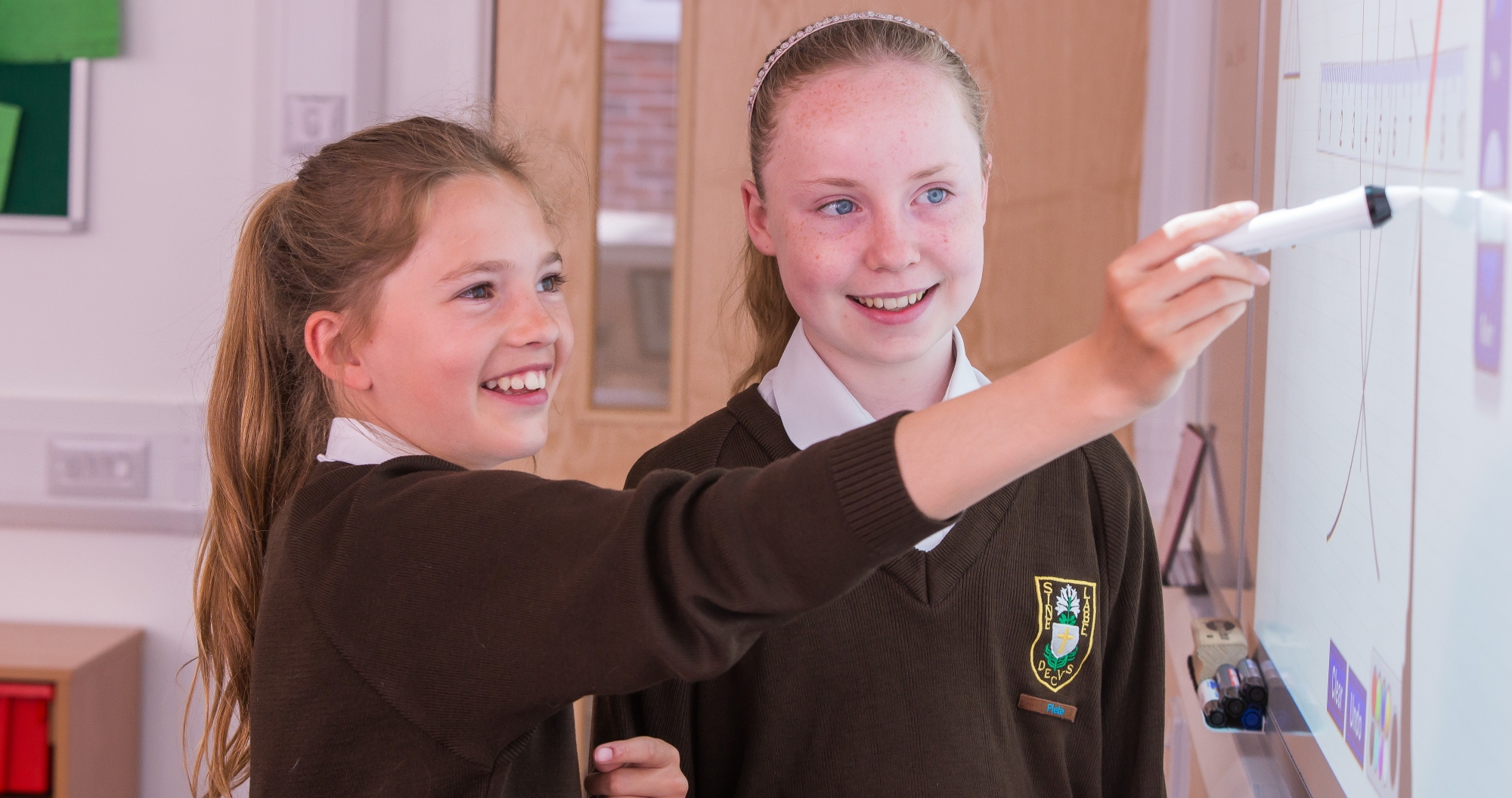 Key stage 3 (Year 7 and 8)
Curriculum in year 7:
1.1 Whole Number Arithmetic; 1.2 Long Multiplication and Division; 1.3 Decimals; 1.4 Using a Calculator; 1.5 Sequences; 1.6 Perimeter and Area
2.1 Averages and Range; 2.2 Fractions; 2.3 Fractions, Decimals, Percentages
2.4 Angles; 2.5 Rules of Algebra; 3.1 Coordinates; 3.2 Long Multiplication and Division 2; 3.3 Decimals 2; 3.4 Properties of Numbers; 3.5 Straight Line Graphs
3.6 Handling Data; 3.7 Probability; 3.8 Applying Mathematics in a Range of Contexts; 4.1 Constructing Triangles; 4.2 Two Dimensional Shapes; 4.3 Percentages; 4.4 Proportion and Ratio; 4.5 Negative Numbers; 4.6 More Algebra; 5.1 Rotation; 5.2 Line Symmetry; 5.3 Translation; 5.4 Number Review
5.5 Probability 2; 5.6 Interpreting Graphs; 5.7 Rounding Numbers; 5.8 Circles
6.1 More Equations; 6.2 Sequence Rules; 6.3 Metric and Imperial Units
6.4 Angles and Constructions; 6.5 Three Dimensional Objects
Curriculum in Year 8:
Area and Perimeter ; Volume and Surface Area; Algebra 1 – Brackets; Rounding & Estimation; Using a Calculator; Angles 1; Angles 2; Ratio ; Transformations
Probability; Sequences; Trial and Improvement; Statistics 1; Solving Harder Linear Equations; 3D Shapes; Inequalities; Constructions; Square & Cube Roots; Algebra 2 – Formulae; Speed Distance Time/Compound Measure
Statistics 2; Fractions; Transformations 2; Straight Line Graphs; Pythagoras' Theorem; Statistics 3; Fractions and Percentages
Bearings and Scale Drawing; Quadratic Graphs
Key stage 4 (Year 9, 10 and 11)
All students follow the new Edexcel GCSE (Higher) mathematics course. Whilst we do set by ability, all girls follow the same scheme of work and sit the same assessments. All students have the opportunity to achieve the highest grades.
Details can be found here:
Full details of the specification and assessment criteria can be found on the Edexcel website GCSE Mathematics Specification
Extra-curricular activities
200 pupils every year take part in the junior, intermediate and senior mathematics challenges.
The department run a mathematics club on a lunchtime. Students from this group are selected for the Mathematics Challenge team. The school have been regional junior champions on a number of occasions.