Name of Head of Department
Mrs D Broadbent BA (Hons), PGCE, MA (Ed)
Statement of Intent
Foreign languages are an important part of cultural and vocational education in Europe and around the world. In the Languages department at DHSG, we aim to provide our students with the skills to communicate effectively in a variety of languages (French, Spanish, German, Mandarin Chinese, Latin) and with a sympathetic attitude to and deeper understanding of the relevant cultures in the language of study. In the teaching of specific languages, we endeavour to foster a language awareness and an improved understanding of English and to develop language learning skills which will serve as a valuable basis for the acquisition of skills in other foreign languages which students may wish to learn later in their careers.
Language lessons focus on developing students' ability to engage in spontaneous talk and practise transferable thinking skills. Above all, as committed and enthusiastic language learners ourselves, we wish to pass on a love of languages and encourage students to embrace language learning as a vital life skill.
"He who knows no foreign language, knows nothing of his own" Goethe
" If you talk to a man in a language he understands, that goes to his head; if you talk to a man in his own language, that goes to his heart." Nelson Mandela.
Aims of the department:
to produce enthusiastic, competent linguists who are confident of their ability, willing to take risks in less familiar situations;
to develop the students' ability to engage in spontaneous talk, uninhibited by a strive for perfection;
to provide a sense of challenge in the language learning activities and overcome the fear of failure;
to encourage students to become adaptable and open to new opportunities;
to help students to develop transferable thinking skills;
to embrace language learning and the ability to use other languages as a life skill;
to encourage a sense of belonging to a global community;
to develop a cultural awareness of other nationalities.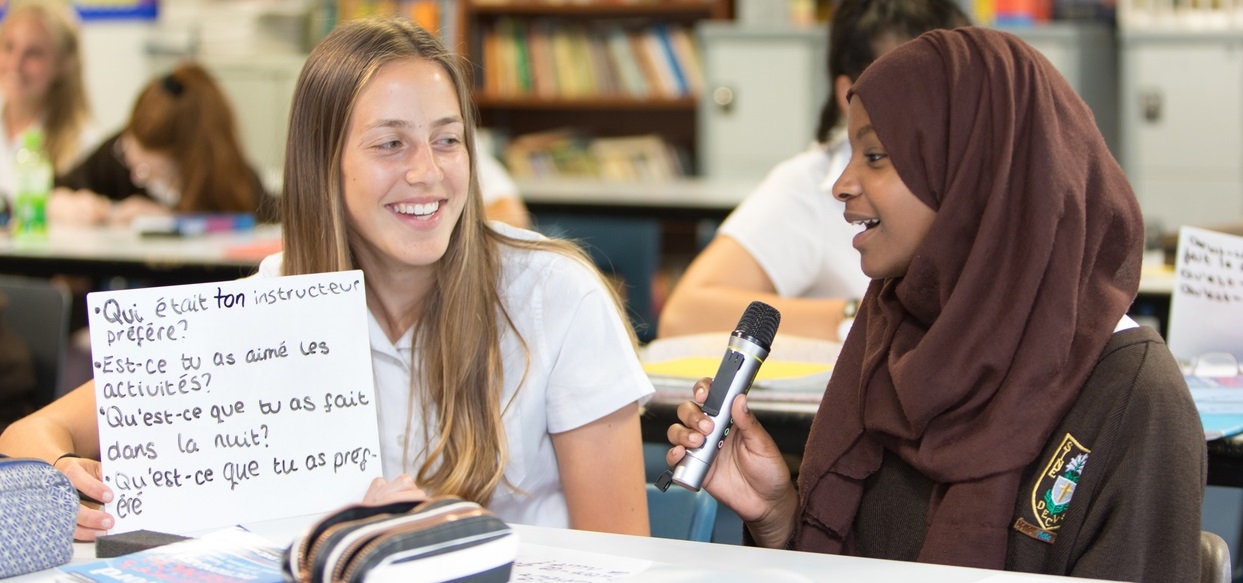 Key stage 3 (Year 7 and 8)
All students choose which language they wish to study at DHSG when they join in Year 7. This will either be French, Spanish, Chinese or German.

They learn this language for 5 lessons per fortnight in years 7 and 8.

At key stage 3, the learning is focussed on the development of language skills and language learning skills. Students rapidly learn a series of core language items to enable them to use language productively and creatively, so that they can express their own ideas and opinions and engage in 'group talk' and paired conversations. Through consistent use of the target language, language learning activities in all four skills and cross curricular content, students are able to develop the confidence to produce a wide range of structures and aspire to develop creative linguistic skills and to provide a solid foundation in preparation for the GCSE course.
Key stage 4 (Year 9, 10 and 11)
It is compulsory for all students to continue with a Foreign Language to GCSE. Hence, when making GCSE choices, students may choose between French, Spanish, German, Chinese or Latin. Students are encouraged to continue with two languages to GCSE.
In French, German, Spanish and Chinese, students are assessed in the four skills of Listening, Reading, Speaking and Writing, which are equally weighted covering the following themes
- Identity and culture
- Local, National and global areas of interest
- Current and future study and employment
In Year 9, students will begin a foundation course to GCSE, covering all the basic skills and areas of grammar essential for achieving a pass grade at GCSE, such as verb endings, adjectival agreements, pronouns, revision of tenses, expressing opinions and producing complex sentences. A range of resources can be used including Métro, Listos, Logo etc. as well as the 'Kerboodle' online resources.
In years 10 and 11, students are entered for the AQA GCSE and schemes of work cover the GCSE topics. Students will be assessed by final examination in year 11. They will be expected to understand and provide information and opinions about these themes relating to their own experiences and those of other people, including people in the countries / communities where the language is spoken.
In Latin, students will be assessed in their knowledge and understanding of grammar and vocabulary through translation tasks, as well as literary texts and aspects of Roman civilisation.
Students will be assessed by final examination in year 11 and are entered for the Eduqas (WJEC) GCSE.
Please see below for indiviual subject specifications
In recent years extra-curricular visits and activities have included
Year 8 Languages and Careers Enrichment Day
Euroscola Visit to the European Parliament in Strasbourg for sixth formers
Year 7/8 International Carol Concert
Year 8 Normandy Experience – Immersion / Activity based visit
Year 8 Visit to Spain
Year 9/10 Visit to Berlin
Year 9/10 Summer camp in China
Year 11 Exchange / Residential visits to France and Spain
Year 10 Residential / Immersion / Activity based visit to Normandy
Year 8 Discover Germany
Making Languages our Business
Passport to Export (Dragons' Den style competition with visit to Berlin for winners)
French Drama competition
Languages pop video competition
National Speaking Competitions