Teachers
Dr C Gurr, BSc (Hons), Msc, PhD, PGC, PGCE
Mr J Hawker, BEd (Hons)
Introduction to the department
At DHSG we recognise that computing equips students to use computational thinking and creativity to understand and change the world. Computing has deep links with mathematics, science, and design and technology, and provides insights into both natural and artificial systems. The department aims to provide high quality teaching and learning for students in: the use of computers, networks and application software (digital literacy), how computers and networks actually work (the science of computers) and how to create their own applications (computer programming). Students will also look at how information technology is used in real-life situations and how to use IT safely and responsibly (e-safety).
In KS3 (year 7-8) all students will have one lesson of ICT/Computer Science per week.
In KS4 students can choose to study Computer Science at GCSE.
At KS5, students can choose to study A Level computer science as part pf TLP.
The school was first awarded the ICT Mark in 2010 and this was renewed in 2013. This recognises that the school is committed to using technology to improve its overall effectiveness and efficiency.
The school is well-equipped with information and communications technology hardware based around three computer rooms and a library resources area. There are a number of satellite areas including the Art Block, Sixth Form Centre and the Languages Communications Room which is equipped with video conferencing facilities. The school has recently upgraded its network infrastructure and has installed a school wide, wireless network. To make use of this facility, students will be encouraged to bring their own devices to enhance their learning. All students have their own e-mail address, secure storage space on the school network and can access the school's Learning Platform from any remote computer via the internet. The SIMS Learning Gateway allows parents and carers their own access to their child's records.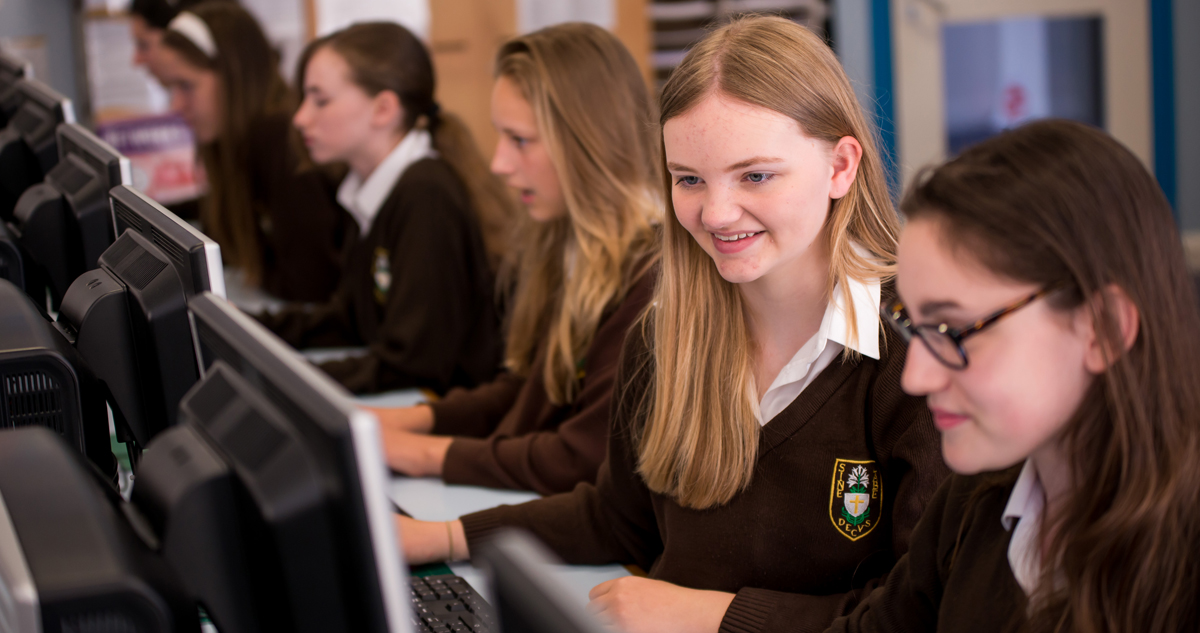 Key stage 3 (Year 7 and 8)
Key Stage 3
In year 7 students have a series of short units covering:
Presentations
How networks and the Internet work
Safe and responsible use of social networking and e-safety
Algorithms and basic programming techniques
Introduction to Computer Games programming
An introduction to computer models and databases
In year 8 student have longer units based on a theme:
Creating web pages and animated content
Creating their own computer games
Advanced modeling with spreadsheets
Programming control systems (e.g. traffic lights, burglar alarms, etc.)
More advanced work with databases
Using a text based programming language to create algorithms
Key stage 4 (Year 9, 10 and 11)
Key Stage 4
In year 9 we introduce the GCSE Computer Science course and start preparing students for the non-exam assessment task. Students will complete sample tasks that may include gaming as well as traditional text based programming tasks. The main focus of the year will be to develop the student's knowledge and understanding of a range of programming languages and techniques.
Other topics covered will include:
HTML programming of a website
Using a games database
Binary numbers and data representation
Components of computer systems and their function
Control technology
Robotics
During year 10, students will continue to develop their programming skills, covering the fundamentals of algorithms, data representation and computer systems. Alongside this, we will begin to cover some of the theoretical content required for the written examinations. Topics covered will include:
Data Representation
Computer Systems
Networks
Cyber security
Ethical, legal and environmental impacts of digital technology
At the beginning of year 11, students will tackle the Non-exam assessment which is worth 20% of the GCSE. Following this, students will then focus fully on preparing for the two written examinations, each worth 40% of the GCSE. The first paper will test their understanding of programming and computational thinking whilst the second paper will examine the theoretical content of the course.
Full details of the specification and assessment criteria can be found on the AQA website Computer Science GCSE Specification
Extra-curricular activities
As a department we run a number of lunch-time support sessions throughout the year. These take place in CR1 and are predominantly aimed at KS4 students who wish to work on their programming skills.
During enrichment days every opportunity is used to allow students to continue to develop their digital literacy.