---
Euroscola
Some Y12 and Y13 students attended a Euroscola online event considering: 'Is Europe ready for winter? - The EU's response to the energy crisis.'
They saw how the European Parliament operates, engaged with other European students, and took part in a Q and A session with Katarina Barley, Vice-President of the EP, as well as Aleyda Hernandez Laviades (The Committee on Industry Research and Energy).
DHSG asked questions in both English and Spanish, and one of our student's ideas was voted as the second most popular
______________________________________________________
GCHQ National Language Competition
Year 9 students from DHSG recently took part in the GCHQ National Language Competition. Along with students from across the UK, they will be set a variety of exciting, language-themed challenges on an online platform with the aim to score the most points. The winning team will be invited to GCHQ headquarters in Cheltenham and will be presented with a trophy by Director, Sir Jeremy Fleming. Good luck DHSG!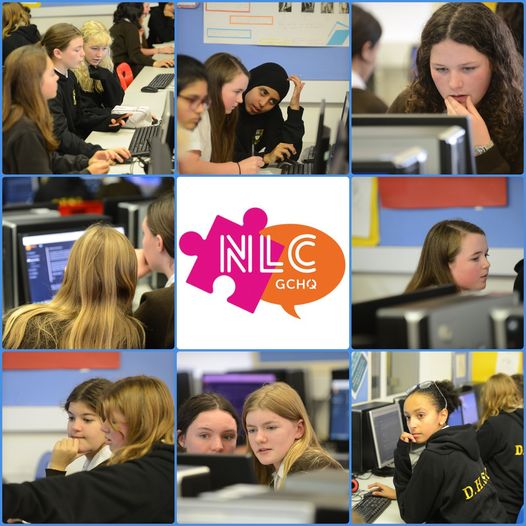 The Eden Project
Year 8 geographers are busy exploring the tropical rainforest biome at The Eden Project. They are investigating plant adaptations, the carbon and water cycles, as well as the positive and negative impacts of people on the ecosystem.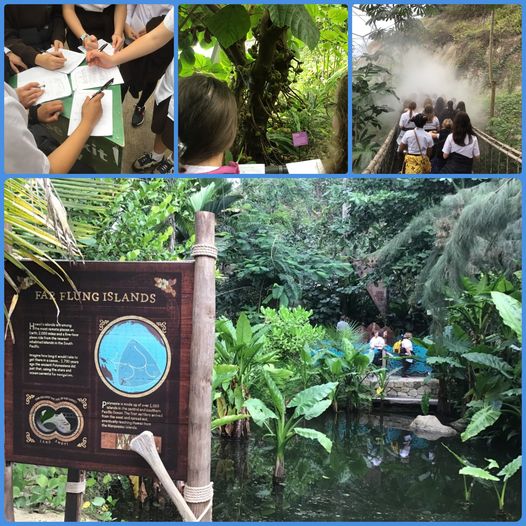 _____________________________________________________
Enrichment Week Activities
Year 9 students and staff had a wonderful week at Bude, during Enrichment Week '22. The activities were exciting, the students were enthusiastic, and the sun was shining! Particular highlights were the bravery of the cavers and climbers, the camaraderie on the team trail, and the wonderful singing at karaoke. The instructors described our students as always smiling, giving it their all in every activity and supportive of each other all the way. Well done everyone!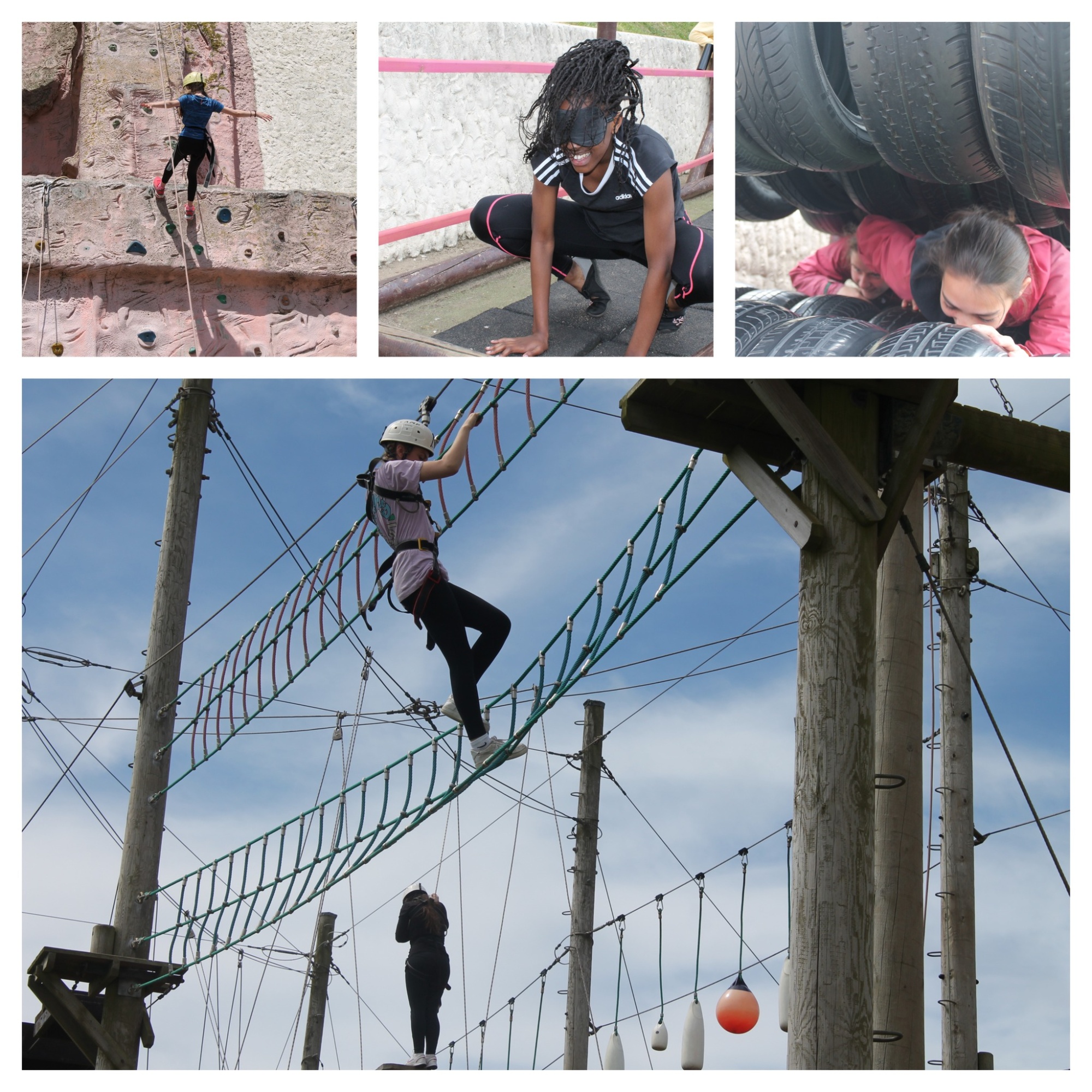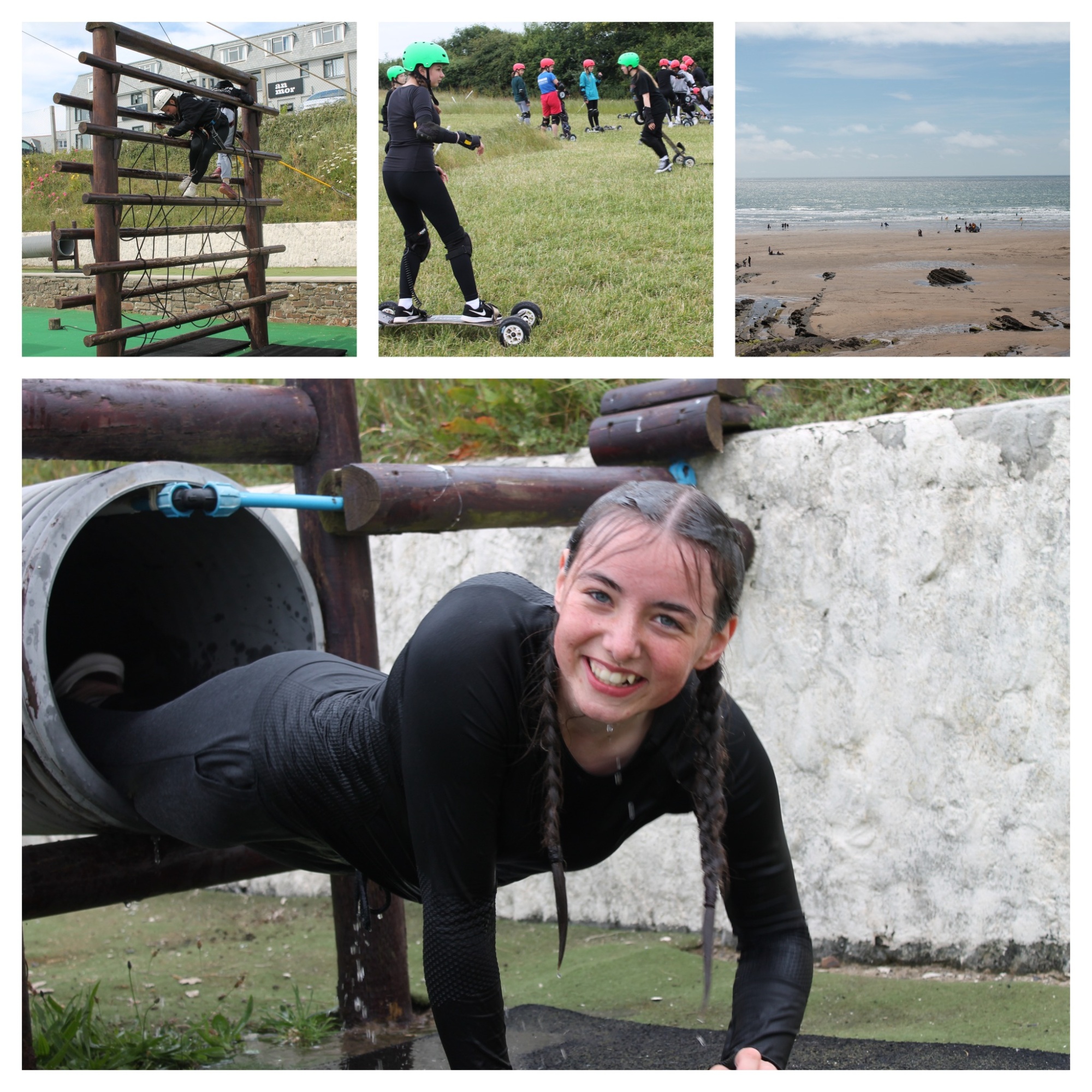 ______________________________________________________
Royal Institution Physics for Maths Masterclasses for Primary School Students
At the start of the year, our Sixth Form Physics students attended a training session to learn how to develop and then deliver a series of Royal Institution for Physics and Maths Masterclasses. Since then, they have been working hard to produce their own lessons to deliver to year 5 students from local primary schools. A guest speaker from the University of Plymouth delivered the first session. The session was hugely enjoyable and the Year 5's all showed up, the sixth formers and teachers alike, with their incredible mental gymnastics as they learnt to add up and subtract in base 8.
Ela, Millie and Abi followed this up with Masterclass Number 2 - Wonderful Waves. The Year 5s learnt all about the different types of waves, the speed of waves and how to do basic Waves maths. The session ended with the ringing of a giant gong on the field to show whether Sound or Light travelled quickest!
Next up, Santiago and Victoria ran a session on Earthquakes - could the Year 5's rise to the challenge of producing an Earthquake-proof spaghetti tower?
Santiago and Christine made motors in their session on magnets and motors and there's still more to come. The final two sessions are Density and Rockets. An amazing achievement from the Year 12s given they have never delivered any lessons before!
We are looking forward to the final two sessions on Density and Rocket Science over the next two weeks! Good luck Year 12 Physicists!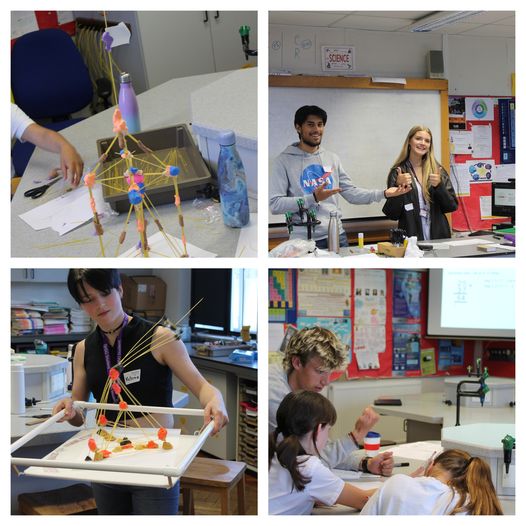 ________________
Production of Bugsy Malone
Please come along and see the students in a fantastic production of Bugsy Malone. Parents and carers can buy tickets via iPayimpact by logging into their child's account. If you require any further help, please contact the finance office.
Tickets will also be available on the night to purchase at the door, but please be advised tickets are selling fast.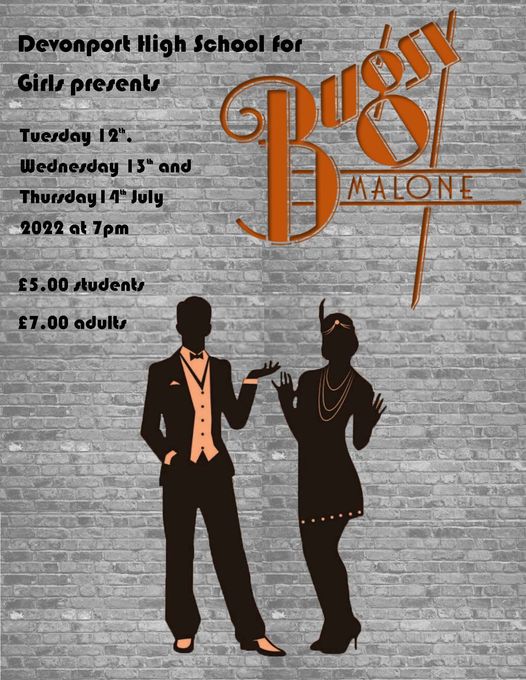 ______________________________________________________

Art Exhibition, "Interpretations of Isolation & Loneliness"
Talented Sumedha from 9E recently took part and came second in the Art Exhibition, "Interpretations of Isolation & Loneliness" (11–25-year-olds) organised by Age UK Plymouth in association with Plymouth City Council.
She is also a member of an artist's group in Plymouth whose aim is to beautify the city with public displays of art. Sumedha's humble art contribution this time was a fish-shaped board which is proudly displayed in Union Street, Plymouth.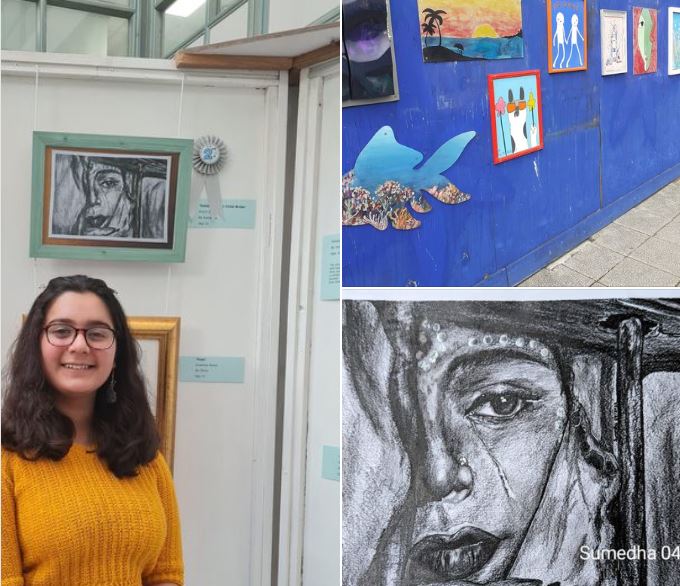 ______________________________________________________
EPAS programme
Just before half-term, a group of yr 12 students from DHSG visited Europe House in London as part of the EPAS programme. They met up with three other schools partaking in the programme to discuss projects that the schools could work together on in the future.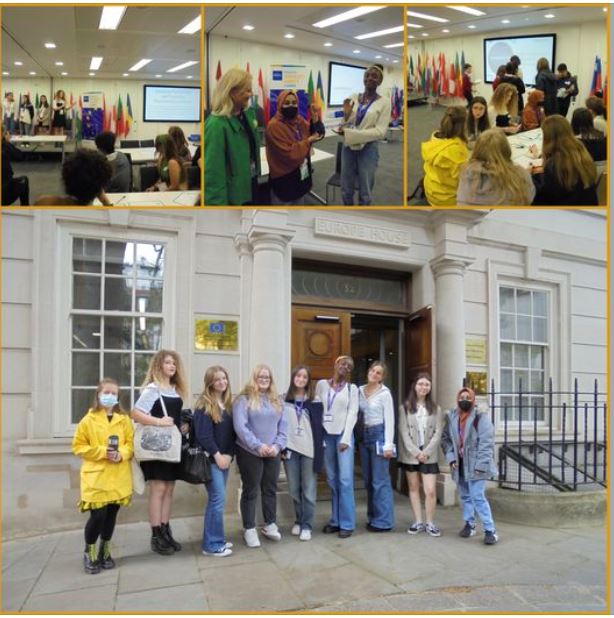 European Parliament Ambassadors Schools Programme
Clare Moody- Former UK MEP, Anna Huth- Lead Youth Correspondent, and Elspeth Wiltshire - Former Internationalism Lead for DHSG (who pioneered the first Euroscola group back in 2005) visited Devonport High School for Girls celebrating DHSG's participation in the European Parliament Ambassadors Schools Programme.
Following an opening speech and formal welcome from Mr Sargeant, Head Teacher, junior EPAS ambassadors from last year: Willow, Rifa, Alice, Issy, Nara, Jennifer, Amelia, Mia, Lara, and Viki, gave a presentation on the activities they completed in the last academic year, and the audience was introduced to this year's junior ambassadors.
Clare gave a brilliant speech and then took questions from students. She then unveiled an honorary EPAS plaque in recognition of the commitment and contribution, DHSG has made to the programme.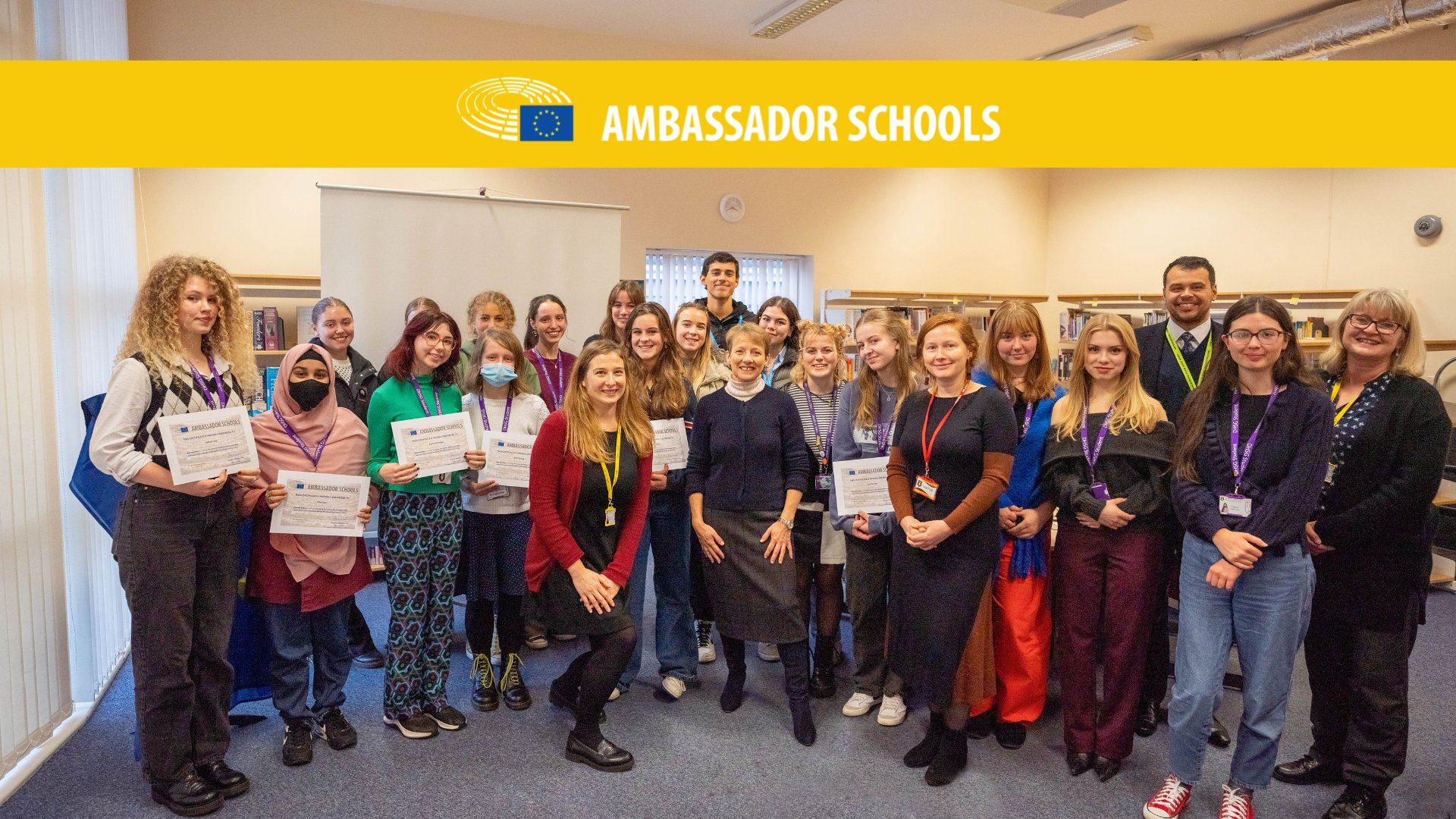 The European Parliament Ambassador School Programme (EPAS) has been important in raising students' awareness of European parliamentary democracy, the role of the European Parliament, and European values. It also has encouraged them to take part in EU democratic processes. It has been a fantastic scheme for our students and the new junior ambassadors will certainly gain much from it. We are very grateful to Miss Marcos for coordinating the event and all the EPAS activities at school.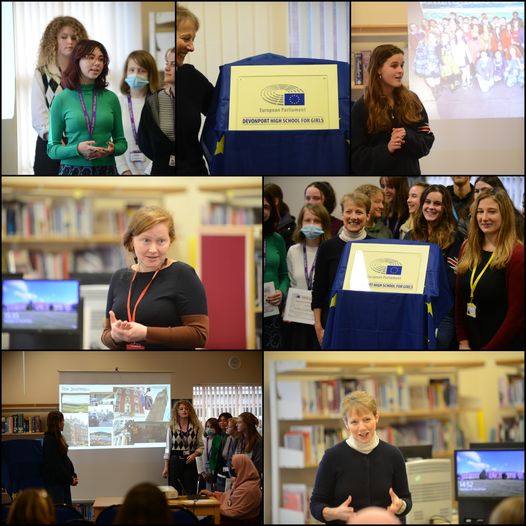 _______________________________________________________
Poetry Competition
39 of our year 9 entries to the Young Writers competition 'The Power of Poetry' have been chosen to be published. We are really proud of our students, and the impressive and inspirational work they created. The book is set to be published on 27th January 2023. Young Writers will now choose their favourite 5 published poets who will each win £50 and a trophy.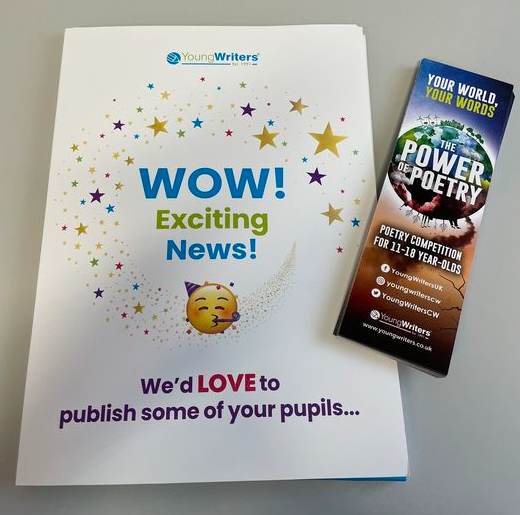 _______________________________________________________
Science Transition Project
Congratulations to all the Year 7 students that participated in the Year 6 to 7 Science Transition Project this year, the standard of work blew us away! There is a lovely display of some of the work submitted in the crush hall.
______________________________________________________
Plymouth's Legacy and Legs Acapella choir
A number of students from DHSG travelled to Plymouth, Massachusetts, USA to represent Plymouth's Legacy and Legs Acapella choir to sing alongside Plymouth International Acapella Choirs last week. These students have made Plymouth UK, The Legacy Choir, Plymouth Music Hub, and their families and school extremely proud.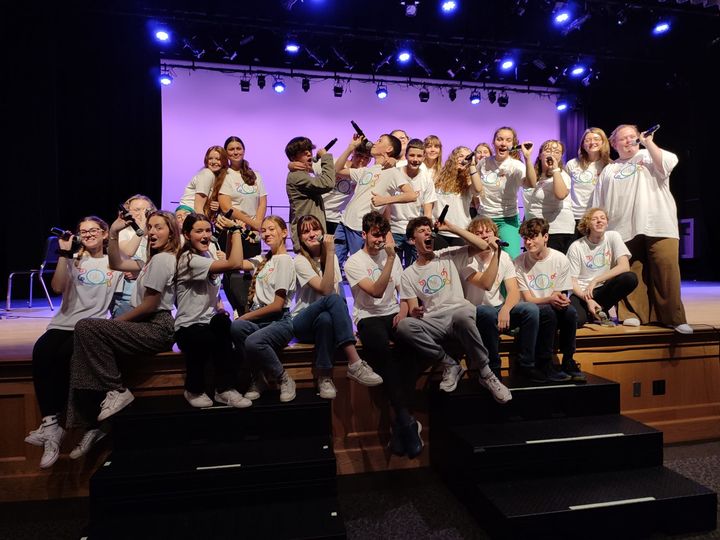 _______________________________________________________
Geography
The sun shone as Year 12 Geographers conducted their local place study; an investigation of continuity and change within Devonport. A big thank you must go to local residents Phil and Joan for providing 'insider' perspectives and to Corrine at the Market Hall for a guided tour and talk on RIO's role in the regeneration.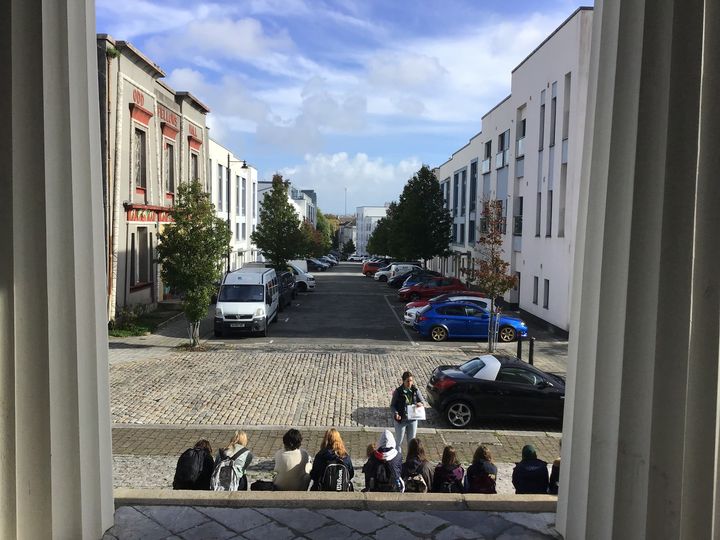 _______________________________________________________
Art and Textiles
Some beautiful new displays have appeared near reception, showcasing the amazing work completed by key stage 4 students in both the Textiles and Art - Art and Design Courses.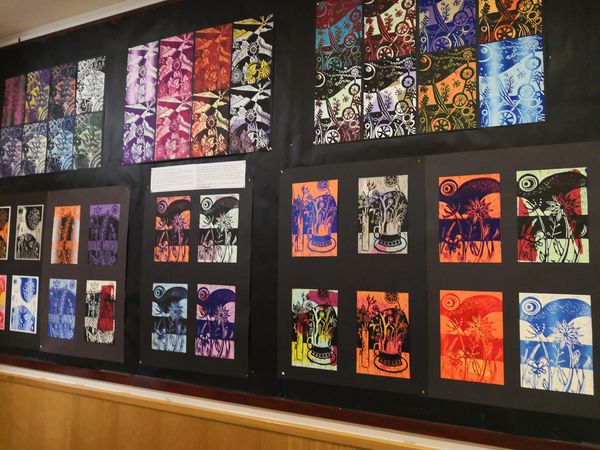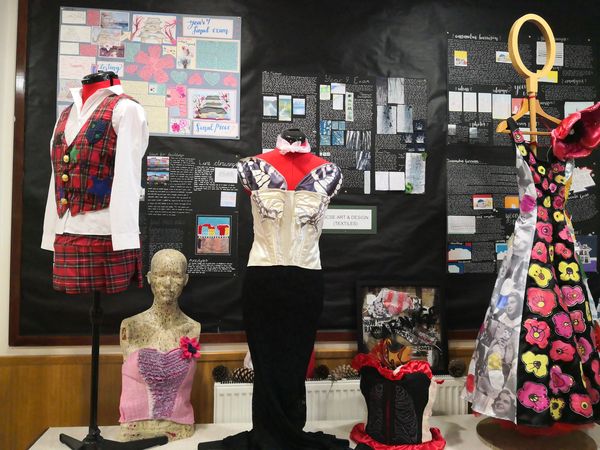 Enrichment Week Activities
Year 7 & 8 students had great fun in enrichment week, taking part in stand-up paddle boarding and kayaking at Mount Batten Water sports Centre.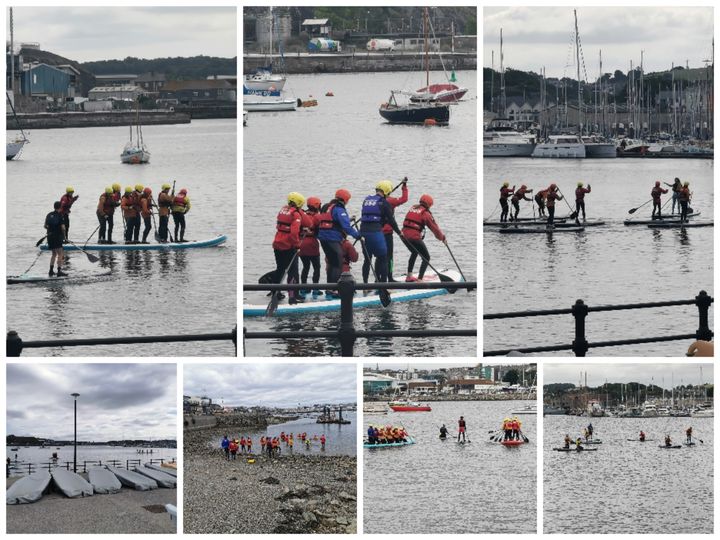 _______________________________________________________
Eurovision Event
EPAS Year 12 students organised a Eurovision–style event with year 9. The students watched past winning songs from different European countries and then voted for their favourite in Spanish.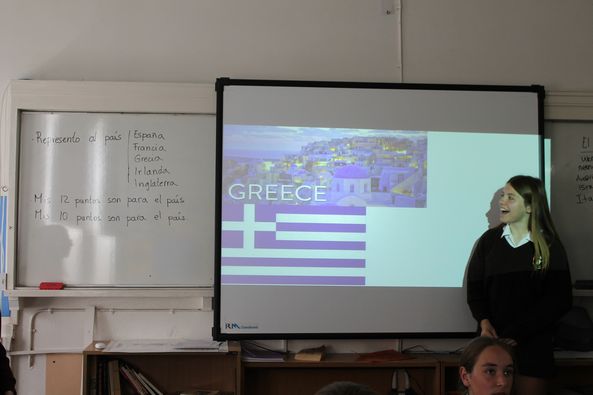 _______________________________________________________
Pride Month
To celebrate the end of June's Pride Month, on Wednesday 29th June, our LGBT+ club organised a Pride fair which included a cake sale, raffle, face-painting, gender and flag badges and even a drag show, performed by staff and students. The students did an incredible job and raised an impressive £220 for LGBT+ charities Intercom Trust and Stonewall. We would also like to thank Debbie from Intercom Trust for coming to the fair and supporting us.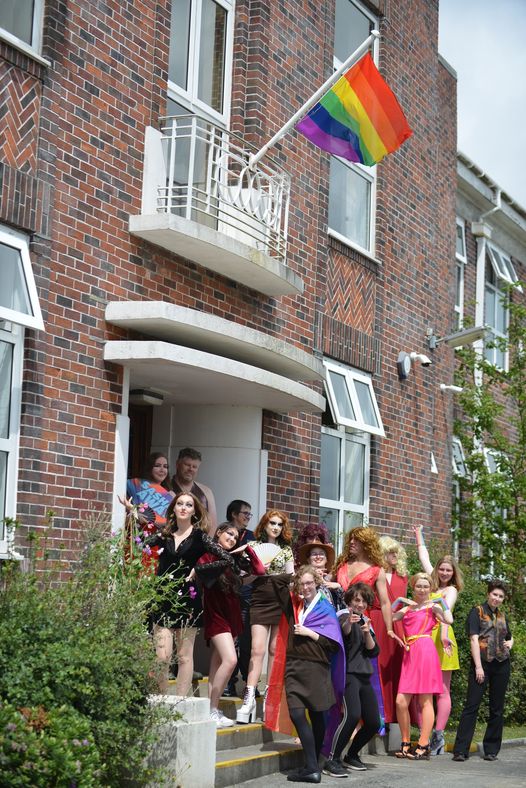 _______________________________________________________

Geography
After a morning mapping land use and flood defences along the River Exe, Year 10 Geographers successfully navigated their way to Cathedral Green. The afternoon marked a change in fieldwork focus, with students exploring the extent to which Princesshay has successfully regenerated Exeter City Centre.

_______________________________________________
Luke Pollard
Thank you to Luke Pollard, local MP, for coming and speaking to some of our students about LGBT+ issues, as part of our Pride month celebrations. He was very engaging and inspiring and answered a wide range of questions from the students. Thank you to all who attended and for your thought-provoking questions and comments.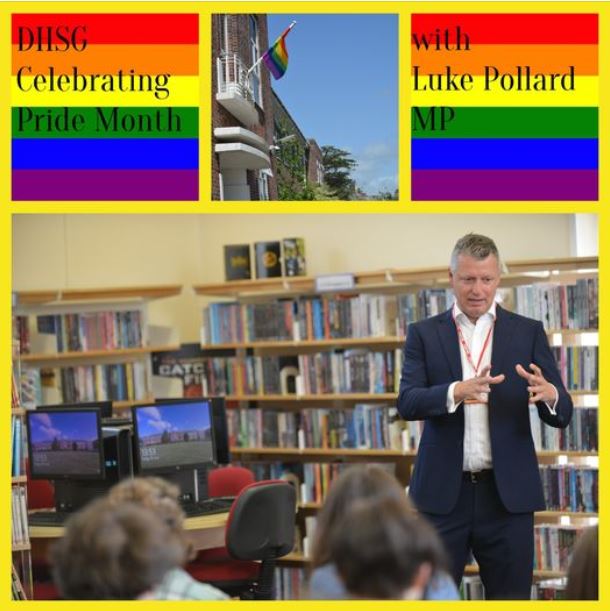 _______________________________________________________
2022 Chinese Bridge Mandarin-speaking Competition for UK Schools Finals
Congratulations to Sofia, Anna, Niamh, Mia and Jenna, who made it through to the 2022 Chinese Bridge Mandarin-speaking Competition for UK Schools Finals as Group Beginners Finalists, and recorded their competition piece. Also, special congratulations to Mia, one of only 12 students from across the UK who made it to the final of the Individual Beginners Mandarin-speaking Final. Thanks to Mrs Li & Xin for their nurturing and support of our students throughout the process.