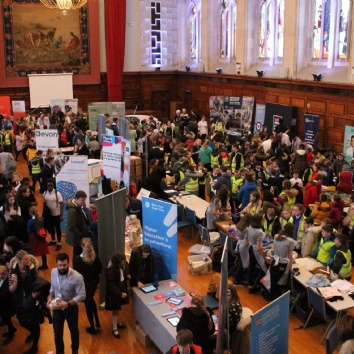 Medifest 2020 was founded and organised by a group of DHSG students and took place at the Plymouth Guildhall on Friday 31st January and Saturday 1st February.
They aimed to raise awareness and broaden horizons of young people to follow careers in a range of medical and allied professions and science, especially the pharmaceutical sector, where there currently is a shortage in the south west. The event also raised the profile of the Victorian pharmaceutical museum at the Park Pharmacy Trust, showing how medical history has developed into modern treatments. Their initial idea was supported by a £1000 Street to Scale grant won from the Plymouth Octopus Project (POP), but the event grew as the number of exhibitors broadened, at which point Plymouth City Council joined the team to help realise their project.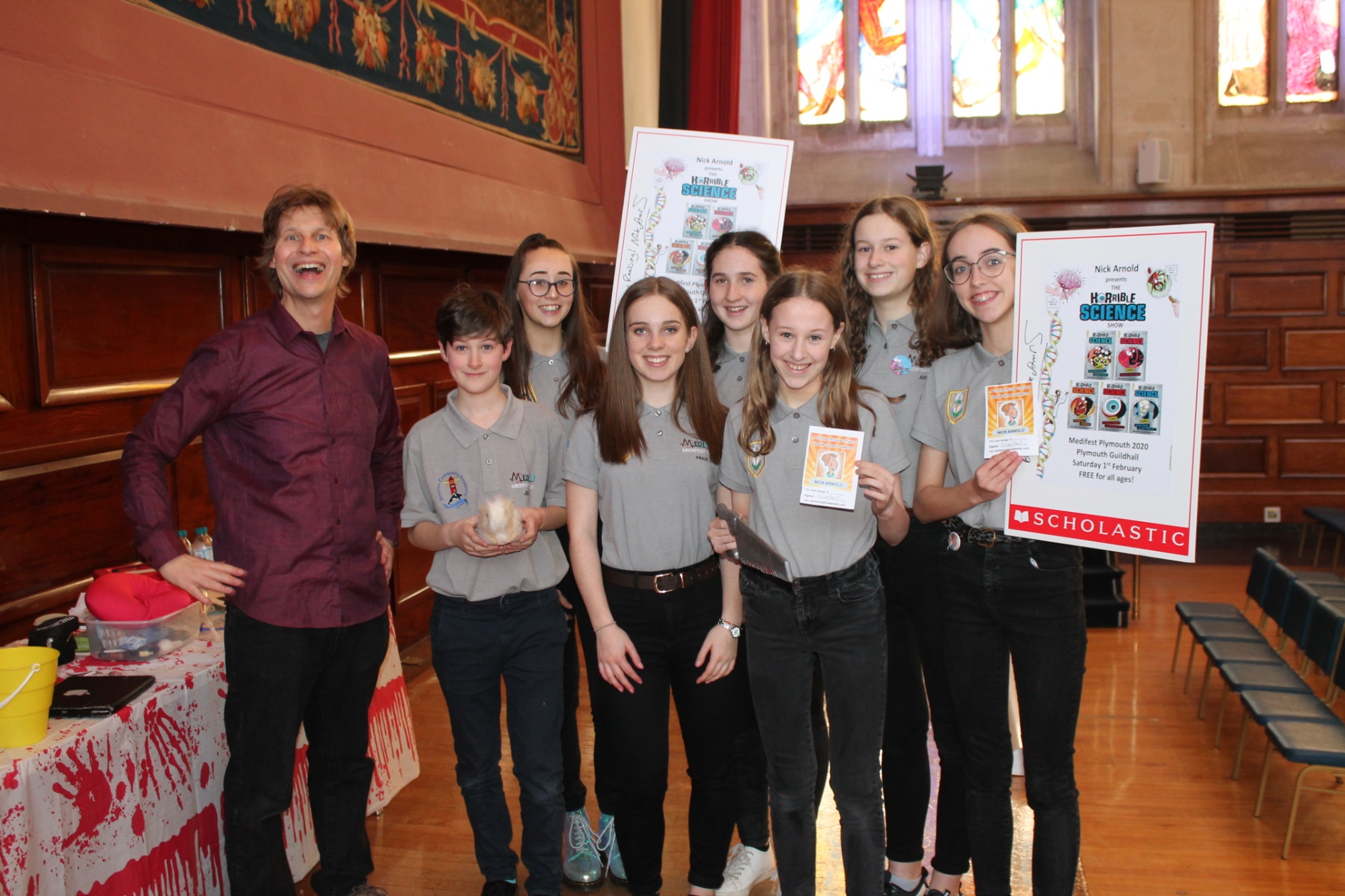 A school event for students in Years 5–8 was attended by 900 students from Oreston Community Academy, Marine Academy Primary, Salisbury Road Primary, St Andrews C of E Primary, Torbridge Primary, Woodford Primary, Eggbuckland Community College and Plymouth College, which included 160 students from DHSG. Students took part in fun and interactive activities and experiments including virtual reality technology with the University of Birmingham, pharmacy careers with Boots, Livewell and the University of Bath Pharmacy Department brought their patient simulator, while the British Heart Foundation taught CPR and there was a range information on apprenticeships available. The University of Plymouth Peninsula Clinical Trials Unit was very popular in demonstrating how clinical trials operate, using chocolate-tasting as an example!!
On Saturday 1st February, the event was open to the public with a range of invited speakers, and over 850 people attended. The star attraction for younger children was Nick Arnold and his Horrible Science Show, while there were presentations from Dr Robert Spencer of the Edward Jenner Museum in London, Dr Michael Dixon (Chair of the College of Medicine), Professor Nick Barber (Emeritus Professor of Pharmacy at UCL) and Dr Ruth Harrell (Director of Public Health for Plymouth). Nick Arnold is the best-selling author of Horrible Science books and entertained the audience with stories of unusual toilet habits of pandas and some caterpillars, how pressure affects the flow of water and keeps a ball suspended in the air, along with some unusual inventions like odourless underwear!
The public event was also supported by the PTFA, who provided a fantastic range of cakes, fruit and other refreshments. They raised £278 profit and we are really grateful for their support of the event, which contributes to their fund to support other activities at school.
As well as inviting the exhibitors, the team attracted publicity and were interviewed by a reporter from Plymouth Radio on Friday, which was broadcast during news bulletins on Friday. Abi was also interviewed by BBC Spotlight on Saturday and was included in the evening news that evening.
The students in the Medifest 2020 team did a fantastic job growing their initial idea into a city-wide event. I am extremely impressed how they developed their organisational skills, used their initiative and had the resilience to keep a positive attitude when problems needed to be solved. We are also grateful to Tina Brinkworth, the STEM Coordinator at Plymouth City Council, for her support with the logistics at the Guildhall. I was incredibly proud to receive all the positive feedback for the Medifest 2020 Team from the exhibitors.
Dr Parry